النص الكامل: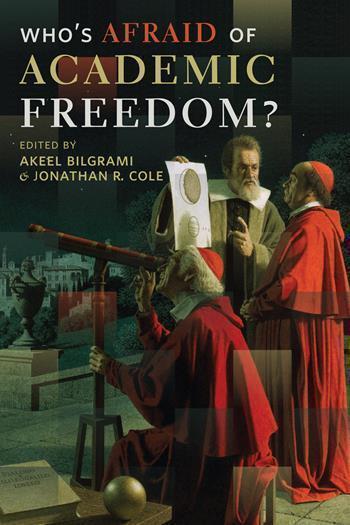 Who's Afraid of Academic Freedom?, edited by Akeel Bilgrami and Jonathan R. Cole. New York: Columbia University Press, 2015. 448 pages. $35.00 cloth, $34.99 e-book.
REVIEWED BY STEVEN SALAITA
Who's Afraid of Academic Freedom? arrives at a moment in which academic freedom is a hot topic of discussion on and off campus. Edited by Akeel Bilgrami and Jonathan R. Cole of Columbia University, the collection offers thorough and intelligent analyses of academic freedom and the various threats it faces. The book is at once a broad history of academic freedom and a reckoning of how the practice functions in deeply contested spaces today.
Essays range fromthe theoretical (JonElster, "Obscurantism and Academic Freedom"; Joan W. Scott, "Knowledge, Power, and Academic Freedom") to the legal (Robert Post, "Academic Freedom and the Constitution"; Robert J. Zimmer, "What is Academic Freedom For?"), with periodic emphasis on the ideals of academic freedom (Michele Moody-Adams, "What's So Special about Academic Freedom?"; Matthew Goldstein and Frederick Schaffer, "Academic Freedom: Some Considerations").
I eagerly recommend the book to those who wish to learn more about the practice as well as to those who know much about it already. It is both lively and rigorous and will give the reader much to consider. As I read, I found myself learning new information and vigorously nodding in agreement; I also found myself adamantly disagreeing with various arguments. For instance, the aspects of the collection that approach academic freedom as contingent on variable circumstances are more interesting than those theorizing a universality to the practice. Nonetheless, generating such diversity of response is a mark of quality in any edited collection.
Bilgrami and Cole managed to put together an all-star lineup of contributors, including upper administrators and influential thinkers. There is considerable ideological variance throughout the collection, which doesn't necessarily reflect editorial preference as much as it does the heterogeneity of academic freedom. All the writers, however, exhibit serious commitment to the preservation of academic freedom as a practice and idea. Who's Afraid of Academic Freedom?, then, can be viewed both as a reflection of the complexity of academic freedom and as an intervention into the many threats it now faces.
As one might expect given the regular campus controversies about speech focused on the Middle East, Bilgrami and Cole devote considerable space to the exploration of academic freedom in the context of Israel-Palestine. The Boycott, Divestment and Sanctions (BDS) movement figures prominently in the analyses, academic boycott especially. John Mearsheimer and Judith Butler argue for the probity of academic boycott (Butler more explicitly). Stanley Fish, as is his custom, makes a strong case against it. Fish's dissenting opinion is a useful contrast to the voices favorable to BDS.
Most of the other essays examine cultural or philosophical aspects of academic freedom rather than specific cases or sites of conflict. Some writers treat it as a legal obligation while others think of it as an ideal in conversation with the day-to-day life of academe. Richard A. Shweder offers a fascinating perspective on academic freedom as a safeguard that enables curiosity and allows for the possibility of mistakes.
There are some ways the collection could have been strengthened, which probably speaks to the complicated nature of academic freedom more than it does of any sort of editorial failure. While Palestine is well-represented, as it should be in any work that is serious about issues of speech on campus, there is too little emphasis on issues of race, gender, class, and sexuality. While this quibble might be perceived as a reflection of the reviewer's own biases, there is no doubt that so-called identity politics often lead to conflict on and off campus. As such, they warrant careful attention.
In the same vein, I would have liked to see more diversity among contributors. While the highprofile roster Bilgrami and Cole comprised is a strength, it is also a weakness. Perspectives from more people of color, young scholars (including graduate students), contingent faculty, and professors at teaching-centered colleges would have added even greater range to the book. Folks from these communities are deeply engaged with and invested in academic freedom and certainly have plenty to say about the topic. Other books offer such points of view, but it would have been nice for established and emerging scholars to inhabit the same edition.
In any case, Who's Afraid of Academic Freedom? should be compulsory reading for administrators, researchers, teachers, students, and journalists. I include journalists because they often misunderstand academic freedom and would be better prepared to report on campus controversies if they read this book. All of us, in fact, would benefit from doing the same.
________________________________________________
Steven Salaita is Edward Said Chair of American Studies at the American University of Beirut.